The Cottage in great detail
Unwind, de-stress and re-vitilize. Read on......
Lac Aylmer, is in the Eastern Townships of Quebec. The original camp was purchased in 1921 by my grandmother, an avid fisher. Camp "Etelka" wasused evey summer by my mother Betty Medoc (with me) until the late 60's. It has evolved into a luxury home with oak, ash and pine flooring, with landscaped perennial rock and water gardens, waterfall and natural waterfront. A timber frame addition and was built in 1995 and we began renting to guests in 2002.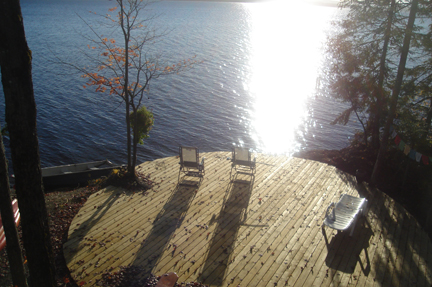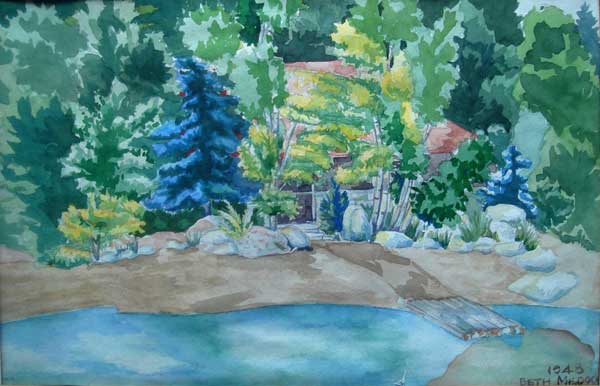 Painted by 2nd generation, Betty Axtel
You can easily make this a place in the heart and provide a lifetime of memories.
The Howell's Aug 2007
"Just a quick note to say thank you for our wonderful week at the cottage. We had such a lovely time and returned home with our internal batteries fully recharged. It was decided unanimously that we would like to return next year, only this time we will take the precaution of booking for 2 weeks..
Camp Comfort was everything we could have hoped -- there were plenty of activities for those who wanted to be active and plenty of cozy spots for those who wanted to curl up with a book. We are already looking forward to coming back!" For more testimonial click here.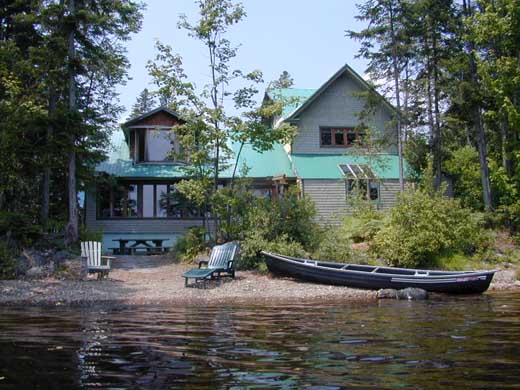 Rooms: Modern Kitchen, Living Room/Dining Room, 4 Bedrooms (5th one is underway), Bath, Shower, Furnished and well-decorated. Photos below and elsewhere on the Web site. More detail below
Sleeps: 12 (maybe 14)
Parking: Up to 8 cars, but we encourage car pooling.
Heating: Electric and Wood
Drinking Water: Well - Excellent quality, slight sulpher smell that goes away in 30 minutes. We have a Brita filter on the laundry room sink tap that you can use to fill your water containers.

Water: Lac Alymer (200 ft of shoreline, 30 ft away from cottage) one of the largest lakes in Southern Quebec is renown for Dore (Walleye). Fed by the historic St. Francis River, on the huge Ward bay (5 x 8 km) Excellent sailing, even in September! Nearby (1 km) Coloumb river is a sanctuary for birds, otter and beaver (canoe North along the shore - pass under two bridges, turn sharp left and follow river - it's really amazing!). Nearby section of the St. Francis provides 8 km of level 1 & 2 white-water canoeing, perfect for beginners. Swimmer's itch was reported between 2001-2008 , and in many provincial and federal parks. It was not a problem in 2009 but we can't be sure. Baby oil is 100% protection.
Water Craft: Canoe (flat water and white water), Laser Sailboat, 14ft row boat (fiberglass) good for up to 9 hp motor, with oars (4 life jackets). 2 Kayaks, the site on top type. See the Things to Do page for boat rentals. Marina nearby in Beaulac for boat launch. Use all my boats at your own risk. My insurance excludes loss of property or harm cauased by the boats, so be careful, wear a life jacket! The replacement parts for the Laser totals $6,000. Sailors, I wih to remind you to always tie the main sheet sail to the body of the boat to prevent the sail and maste from going to the bottom of the lake (it happended!). Our two kayaks are included. Pleases store the kayaks well off the beach overnight. Tie up all boats when you leave, the lake rises very quickly sometimes.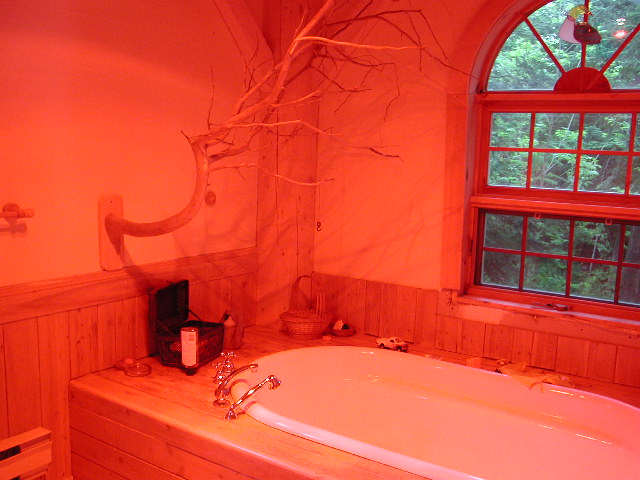 Bathrooms: No. 1 Bath & hand towels, soap, heatlamp; bathtub for two, Granite double sink counter. No. 2 Glass bock walk- in rain shower for two. No. 3: Upstairs toilet and sink A third shower is in the log cabin with the sauna.
Kitchen: Table for 8, another breakfast table for 4 (join together for large groups) antique wood refrigerator, freezer, stove/oven; dishwasher, toaster, Microwave, blender, kettle, 8 cup drip, dishes, coffee grinder, Small Braun Expresso Machine, No Candles provided, glassware, pots and pans, breakfast in bed trays, cutlery, dish cloths & tea towels, all necessary cooking tools and gadgets; Many spices including S&P, sugar, flour, coffee filters, dish & dishwasher (usually) soap, cleansers, etc., may be provided - use some leave some policy. Check out the condiments (mustard etc.) before going to the store; Granite counter tops.
Laundry room: Small freezer, new frontloading wishing machines.
Dining/Living: Hardwood floors, Dining table and 8 chairs, 1 couch, 6 easy chairs, rocker, coffee & end tables, china cabinet, TV-VCR-DVD, Turntable,Note: no more satelitte television beginning May 2011, CD/Radio, Inputs for Mp3 devices. A portable 100W Sound System.you can plus an iPod into and use outside.
Bedrooms: #1 "Ah"- 1 King & single with fabulous view of the lake while you enjoy breakfast in bed,
#2 "Courage" - 1 King and childs bed which can become 2 singles. ,
#3 Sunrise - 1 double + 1 single faces lake and the sunrise,
#4 - "lakeside) has a double on first floor beside the kitchen -fan
# 5. Double bed in the Massage Room, next to the shower room, with the possibility of adding a single bed here.Teenagers like this space.
6. The log cabin (pictures below) has a queen bed. There is a kitchenette in this room, the bathroom with shower is upstairs, a marine style ladder which is not suitable for the elderly. A chamber pot is under the bed just in case. dressers/night tables and lamps, linen, blankets, pillows, etc.
Baby Friendly: New! Crib available (upon request) in downstairs bedroom with bedding, High chair for meals, child gates on stairway. You don't want to lug that stuff, we have it for you upon request.

Our Scandinavian scribed cedar log cabin is perfect for couples! Small but everything you : shower/change room, kitchenette, hardwood floors, and queen bed. Included with the cottage rental.
Can be rented separately for couples April 15-June 11th and Sept 8 - Dec 20 , for $400/week This depends if the cottage is not rented, and as a last minute deal.
Access to the hot tub and sauna.
The cabin is only 30 feet from the shore and about the same distance from the cottage. Lovely lake view from the bed!
Downstairs: Just one room (14' x 18' cosy) a Kitchenette and Bedroom combined. Sleeps 2 on Queen bed

Upstairs: Sauna, giant shower, balcony and bathroom. This is a shower with a view! You may want to hang up a sheet for more privacy.
Outside: Adjacent, is the salt water hot tub (spa) for 7 people.
Ladder : A marine style ladder connects the floors.

Heating: Electric
More Cottage details
Terrace & Campfires: Outside table, woodedn decks, hammock, Propane BBQ & necessary accessories, outdoor wood and kindling for the fire pit for campfires, or charcoal BBQ's; two adorondack chairs
Laundry & Cleaning Devices: Washer & dryer, tubs, brooms, brushes, (laundry soap, cleansers, paper towels, Kleenex, etc., provided), automatic dishwasher
Ô Lotus at the Lake is a new service through a partnership with our local yoga centre that offers both group and private yoga classes and Thai massage at the cottage. Read more here
Entertainment: Canoe, numerous indoor and outdoor games, bird watching including hummingbirds, feeding chipmunks & squirrels (bring unshelled peanuts), watching falling stars, tonnes of reading material. See links page. In 2003, our very own Camp Comfort train station. Unfortunately no trains. Very old and slow Computer, with Firefox Browser plus, Yes, we have 8 mbps Wifi high speed internet (we strongly recommend you use you laptop only in your bedrooms so you can connect with your physical environment). No staelitte TV beginning June 2011. Disconnected due to lack of interest by our renters. We will connect this for your period for $50 fee.
Telephone: Access to (819) 340-3244 to call out - 150 minutes Free long distance/week is included North America and the UK. You must include the area code with all calls, as this is a VOIP phone. There is a 911 service - but you must confirm the location of the phone - beside phone. Emergency numbers are also supplied; discount (.05-20 cents) overseas rates are available if you want to check the rates on www.vonage.com and leave your payment..
Extras (by request) : Your favorite satellite channels, Large 10 foot movie screen available for your video projector. For no extra charge ;-) we will turn off the television, telephone or Internet service if you wish to be unplugged.
Comfort and convienence: This is the 10th rental season of Camp Comfort (2011). It is a quiet retreat in a quiet neighborhood on a fairly quiet lake. We try to provide both the necessities and conveniences (and luxuries), largely minimizing what needs to be transported to and from Camp Comfort. You only need to bring clothes, some toiletries and food. This enables you to travel light. Our feedback indicates this is very important, particularly to those who are traveling from Toronto, or the USA. Customer service and client satisfaction are very important to us and we believe we provide very good value as a result.
Cleaning: The place will be VERY clean when you arrive. You are expected to leave it in similar condition. Johanne and Cecile are professional clearners and they greatly appreciate your efforts to cooperate in this way. That is how we can manage to present you with a spotless experience. Please start to wash the bedding and throw in the dryer before you leave, but if you don't have time, leave in a pile on floor. We'll make the beds. Dog and cat owners are asked to vacume the floors, for the next guests or pay an extra $50 for the extra time.
Quiet after 10 PM in order to respect other neighborhood residents and to listen to the waves, while watching for falling stars or Northern Lights; perhaps while in the hammock.
Not a Wilderness Setting: We must be honest; this is not the Canadian wilderness. Half a kilomtre from a highway. Only one guest so far has told us that the distant sound of transport trucks as they came around the lake was distrupting their holiday. This encroachment on an otherwise serene setting may be too much for you too. Sorry, you should consider the mountain top cottages in St-Julian. The distant highway noise is not a big deal for families and not at all a problem off season. We more than make up for it with the bright star lite sky and the sound of the waterfall.

Please remember we do provide almost everything you will need other than your food, some toiletries, and clothes.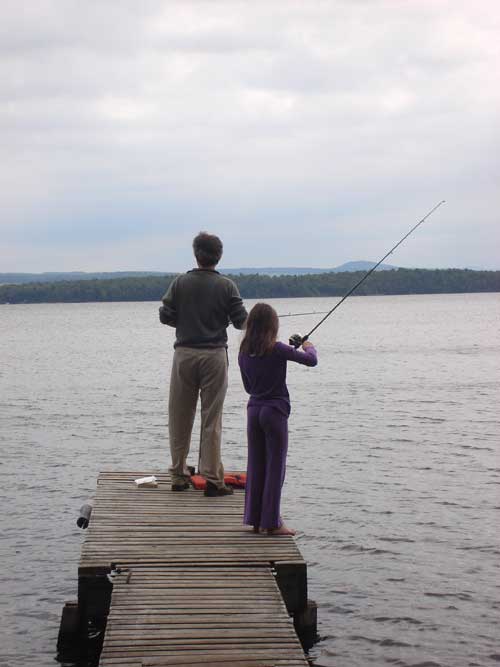 Inside or out, looking at the lake has been central to the design of the cottage.

Request to be unplugged and we will reduce your contact with the outside world.
Even more details
Location: Lac Alymer, Quebec, (2 1/4 hr from Montreal; 45 min from Sherbrooke, 110 minutes to Quebec City)
Nearest Town: Beaulac-Garthby (2 km), Disraeli (7 km), Thetford (30 km)
Hospital: Thetford (30 km, Sherbrooke 80 km) - "911" (Emergency number) in service;
Smoking: Yes, but use the outdoors. Not in buildings.
Pets: Cottage - Yes, but vacume before you leave. Two pets or long hair cats $50 charge.
Beach: Pebbles
Nature Park: "Parc Frontenac " 8 km is great for biking, canoeing and hiking!
Horses: Riding stables in Bishopton and St Fortunat, both 30 km away.
Cycling: Routes on quiet roads nearby, both flat and challenging hills (#161).
Fishing: Yes. Walleye (Dore), Bass, Pike and Muskies right off the dock. Permits can be bought at the local corner store. Pick up inexpensive fishing gear at Korvettes.
Directions: Map and written directions can be sent by email.

See the new spa in action here
Version: 1.4 (January, 2011)
Version: 1.0 (January, 2006)